Mookie Wilson, Wally Backman and Mr. Met To Attend QBC15
$35 admission includes autograph from both players
Updated program schedule HERE (updated November 17th) including Wally Backman, Mookie Wilson and Mr. Met!
WHAT IS THE QUEENS BASEBALL CONVENTION? A mid-winter gathering of fans of baseball, held in Queens. Our design is a combination of "Fan Fest" meets "Comic Con." The spirit of the day is for the fans to get together, celebrate baseball in Queens, and to bring the kiddies and bring the wife. Events will range from appearances by players, panels, trivia, mascot appearances…and a whole lot more.
WHAT WAS 2014 LIKE? Attendees included Ron Darling, Ed Kranepool, Art Shamsky and Mr. Met. You can see a recap of QBC14 here.
WHAT WILL BE AT QBC15? Here is the updated programming schedule, including the announcements of Mookie Wilson and Wally Backman.
WHEN AND WHERE IS IT? January 10, 2015 at McFadden's Citi Field.
HOW MUCH TO GET IN? $35
ARE AUTOGRAPHS INCLUDED? We are working with player reps but the plan is that like last year your admission will get you two "free" autographs.  We will make sure the players are of similar caliber to last year (which were Darling and Kranepool.) We may be able to get more players to come if we work out some other scenarios.  So maybe "Joe Player" comes, does some panels, and if you want his autograph too you can go to a table and pay some amount.  And if autographs (beyond the two mentioned above) don't interest you then you don't have to spend extra, but the player is still there and maybe does some panels. This is the part where you guys buying in advance off good faith and last year's reputation helps us make it bigger and better by giving us working capital to reinvest in this part.
I LIKE THAT LOGO.  THAT WOULD LOOK GOOD ON A T-SHIRT. We're kicking things off with a ticket and tee offer.  $45 gets you in the door and you get your t-shirt day on the day of the event (extra $2 for larger sizes.).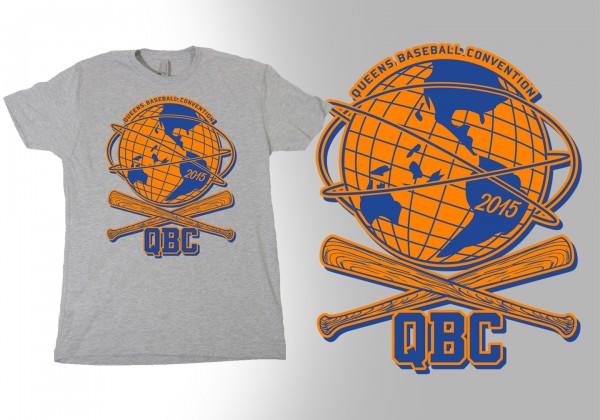 COOL. I'M EXCITED. HOW DO I BUY TICKETS? Right here!
We're happy to announce yet another item to the jam-packed 2015 Queens Baseball Convention (January 10th at McFadden's Citi Field).
Lindsey Nelson: Voice of the Mets.
This presentation will cover Lindsey Nelson's career with a focus on his tenure with the Mets, why he was a great fit for the Mets fans, and his impact on Mets Nation. Sources will include Nelson's autobiography, interviews with family members, and contemporary newspaper accounts. Join David Krell (from QBC14's Mets and Popular Culture presentation) for this great look at Lindsey Nelson.