QBC 16 Cancelled FOR THIS WEEKEND- Looking for Make Up Date
Hey guys. WE HATE THIS! We had hope that the snow was going to go past us(and it still might). We don't want to have any body worry about getting to or getting home in bad weather conditions. That being said, we are working on another date. No. We have no Idea when yet, that's why we are working on it.Trying our best to make it work.
Also, we have contacted Host Committee about refunding your money and they said that they will start sending the refunds out sometime tomorrow.We would like to thank O'Neill's of Maspeth for graciously opening their doors to us and being so understanding about the cancellation. We want you guys to go visit them. Great food there and a great place to watch sports. Let Danny and Deirdre know that we told you to check them out.
We are so bummed about having to cancel QBC16. #BLAMEBELTRAN
Here is our official press release.
THE QUEENS BASEBALL CONVENTION
SATURDAY 01/23/16
WHAT IS THIS AGAIN?
"Fan Fest meets Comic Con."   Past guests include Mookie Wilson, Wally Backman, Ed, Kranepool, Ron Darling, Ed Charles, Josh Lewin and more.
HOW MUCH?
$50 per ticket for adults.$25 for kids ages 10 and under. This includes the ability to get a free autograph from Buddy Harrelson and Tim Teufel presented by The QBC.
Bobby Valentine autographs will be available separately (not as part of the admission ticket.)
The first 200 tickets purchased receive a QBC collectors pin valued at $15
Appearing at QBC '16
We couldn't be happier! Mr. Met is coming back for his third straight year!
We are lucky enough to have these special guests at QBC '16.
BOBBY VALENTINE
We are upping the game this year folks. We have a third special guest/panelist appearing at QBC '16. The one the only Bobby V.
Valentine led the Mets to a record of 97–66 and a wild card playoff berth that season. The Mets beat the Arizona Diamondbacks in four games (3–1) en route to the National League Championship Series, where they eventually lost to their division rival the Atlanta Braves in six games (4–2).
In early 2000, Valentine was at the center of what would be called "The Whartongate Affair," in which he allegedly mentioned to students at the University of Pennsylvania's Wharton School of Business somewhat cynical, insider comments regarding a handful of Mets players and the organization as a whole.[9]
The Mets returned the following season, finishing the year with a 94–68 record and another wild card playoff berth. This time, the Mets would not be denied the pennant, winning the 2000 National League Championship Series by defeating the St. Louis Cardinals in five games (4–1). The Mets ended up playing The Yankees in the 2000 world series.
BUDDY HARRELSON
Buddy Harrelson anchored the Mets' infield for thirteen seasons, including their 1969 season, and 1973 pennant-winning season.
After his retirement, Harrelson managed the Little Falls Mets in 1984 and the Columbia Mets in 1985. When Mets third base coach Bobby Valentine accepted a managerial position with the Texas Rangers part way through the 1985 season, Harrelson replaced him on Davey Johnson's coaching staff.
Harrelson was a coach with the Mets during their 1986 World Series championship season, and eventually replaced Johnson following his dismissal as Mets manager 42 games into the 1990 season.
Buddy will also be receiving THE GIL HODGES UNFORGETTABLE FIRE AWARD. Past recipients have been Gil Hodges(accepted by Gil Hodges Jr.) and Ed Charles. The Gil Hodges Unforgettable Fire Award is presented each year by QBC to a special figure in our team's history, someone whose memory will always warm our hearts, brighten our spirits and lights our way.
TIM TEUFEL
We are proud to announce that Tim Teufel will be appearing at QBC '16 to do a panel and autograph signings (one autograph from Buddy and one from Time Teufel is included in the price of admission).
Teufel was a member of the 1986 World Series champion New York Mets.Teufel returned to the Mets as a roving instructor for 2001 and 2002. He was named the manager of the Mets' Rookie-level minor league Brooklyn Cyclones for 2003 and was promoted to the Single-A St. Lucie Mets for 2004 and 2005. He was named manager of the Savannah Sand Gnats on January 11, 2007, and was a Mets' representative at the 2008 Major League Baseball Draft. He returned as St. Lucie's manager in 2008 and 2009. In 2010, in his first season managing the Double-A Binghamton Mets, he led the team to a 66-76 record and a fifth-place finish in the Eastern League. He was named manager of the Buffalo Bisons in January 2010. In 2011 he was named manager of Leones del Caracas in the Venezuelan Professional Baseball League. On November 16, 2011 he was replaced as manager by Carlos Lezcano.
Teufel returned to the New York Mets organization as the new third base coach replacing former coach Chip Hale.
SANDY THE SEAGULL and PEE WEE ARE BACK!!
We would also like to announce that two of our favorite birds from Brooklyn are coming back. Sandy the Seagull and Pee Wee will be flying around the QBC on Jan 23. Watch your fries. You know how gulls are.
WHAT TIME DO THE DOORS OPEN?
11:30 am
CAN I PARK?
Yes, there will be valet parking.
IS THERE FOOD?
Yes TBA
SHOULD I PRINT OUT MY TICKETS?  
Please print out your ticket and bring ID.
WHAT'S THIS JERSEY PARADE I HEARD ABOUT?
Wear your best (or worst) jersey, and join us as we march from one end of O'Neill's to the other.  Judges will be on hand to provide commentary on your attire.  All in good fun, and it really is a silly good time.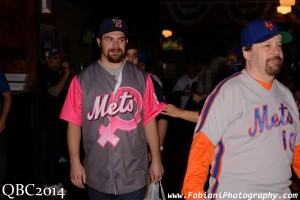 IS THERE A HASHTAG OR SOMETHING I SHOULD USE?
#QBC16
http://instagram.com/qbconvention
WHAT TIME WILL THE QBC END?
Probably around 7.
Contact: Mediagoon@gmail.com
QBC'16 tickets are nonrefundable unless event is cancelled. As well, tickets cannot be applied towards future Queens Baseball convention events.